Hi, I'm Quiana Murray
Your Business Transformation Expert.
Are you stressed out with the financial challenges of running your dream business in a one-to-one model?
Do you love your business, but lack the money, relationships, and resources needed to make your dream come alive?
Do you desire to create more money, freedom, and growth in your business by partnering with larger corporations and industry leaders?
If this sounds like you, then I created this business with YOU in mind!  As an award-winning business growth strategist, I've spent almost a decade helping entrepreneurs obtain the money they need via sponsorship and corporate partnerships to build businesses that will give them the freedom to live amazing lives on their own terms.
As someone who started her own business from scratch, I know exactly how it feels to wake up every day wishing you had the MONEY and RESOURCES needed to make your dream happen. As a matter of fact, I even know first hand how it feels to ditch your day job to start a business and then fall flat on your face.  I've been there.  After starting my own business and going nearly broke (and homeless), I had to make a major shift in my thinking. I also decided to make a shift in the way I went about operating my business. I kept waiting for my business to feel like a real business. That quickly led to poor business decisions and at times, feeling absolutely paralyzed by worry, overwhelm, and just plain fear.
When I decided to stop waiting for my business to feel like a real business and started operating my business like it was a real business, I was able to strengthen my business from the inside out.  I developed my own formula for leveraging my business, growing my audience, and developing amazing corporate relationships. This enabled me to land major sponsorship deals that created the cash flow and freedom I needed to rebuild my business and my personal life. Before I knew it, businesses were lining up to partner with my brand JUST so they could get in front of my audiences! But wealth and success is not just for me and my corporate partners….
Your dream and your business matters. You have amazing gifts and resources that the world needs.
It's no secret that you need MONEY to have a successful business and this why so many business owners fail-they NEED money to MAKE money.  But guess what? There is money and opportunity out there with your name on it!  You just need to know how to position your business so that you catch the eye of large corporations. Using the tried and true strategies I've honed over the last decade, I now show entrepreneurs just like you those exact strategies to transform their business from "breaking even" to making major bank!
Yes! You CAN afford to build (or rebuild) your dream business!
Yes! You CAN quickly position yourself as a major influencer in your field!
Yes! You CAN land new lucrative deals, partnerships, and clients – even if you're just starting out!
I truly believe that YOU are the next success story. This is why I started the Elite Sponsorship Group where I personally work with entrepreneurs, providing the insight, resources, and strategic action plans needed to fund and grow their dream business using a corporate sponsorship model.
If you're ready to utilize sponsorship to create a successful business that provides the money, freedom, and opportunities you've dreamed of, then I'm here to help you every step of the way.
Ready to take the leap into success? Yes, tell me more…
Check out these amazing business transformation success stories!
Real People. Real Businesses. Real Results.
Praise for Quiana…
Launched my own vineyard. Landed major corporate partnerships. Secured new business.
"When I first met Quiana…. I thought that she was one of the most innovative women I have ever met. Quiana literally has been consulting with me from day ONE and I will be forever grateful for the patience, wisdom, time and knowledge that she gives. Her guidance and support has been amazing. Quiana has also helped me position myself as an influencer, so I'm able to now partner with companies nationwide. She has helped me get my business out in a big way. I'm thrilled with the growth I'm experiencing. I'm happy to report that I'll be opening my own vineyard in Northwest Florida soon. She provides so much value!"
Victoria Robinson, Victoria's Luxe Concierge Enterprises & Angel Hill Enterprises, Inc.
Quiana provided me with the tools to get out there, get noticed, and get the phone ringing.
"I've said before…Quiana is our leader!  Working with her gave me perspective and helped me to realize my value and the knowledge I bring to the table. Since working with Quiana, I've hosted my first annual vendor event (which received media coverage); I've created local buzz about my business; and I've dramatically increased my visibility! Having an event sponsored by over 10 companies was a huge success! Quiana provided me with the tools to get out there, get noticed, and get the phone ringing. Quiana is genuine and really wants to see me succeed. I'm glad to have connected with her."
Carolin Gosling-McCoy, Big Day Essentials, LLC
From the desk of Quiana Murray
Get motivation and business strategies that will change your business and your life!
When I first contacted Quiana I knew she could help me. She had helped me build a large clientele before, but now I was ready to take my business to the next level. Despite my eagerness to excel, I couldn't figure out exactly how I was going to do it. Thank God for Quiana because she laid it all out for me. I just followed the steps she gave me. As a result of putting Quiana's steps into action, I had my BEST wedding season ever! Quiana is dynamic every time we talk! She really knows her stuff and I am so glad she helped me! She made something that seemed impossible for me, a reality.
Nadine Moreland, Owner, Moreland Wedding Services
Sign up for Quiana Murray's Elite Sponsorship Group!

This where the magic happens…
Members of Quiana Murray's Elite Sponsorship Group receive hands-on training plus strategies and action plans designed to transform any business from the inside out.  As a business transformation expert, Quiana challenges her Elite members to change their mindset when it comes to wealth and money. She then provides the steps and strategies needed to help move any business from breaking even to bankrolled. If you are tired of "dreaming" about it and are ready to get the personal attention, tools, and direction necessary to develop, fund, and grow your dream business (you know-the one that lets you live totally free!), then sign up for the Elite Sponsorship Group today!
Work with Quiana!  Sign up for the Elite Sponsorship Group today!
Corporate Consulting Solutions
Strengthen your organization and your bottom line.
As the CEO of the Bold Business Institute, Quiana has coached hundreds of entrepreneurs across the country. However; she still enjoys working with a select number corporate organizations on a private level.
Quiana's reputation for helping corporations bridge the gap between brands, their employees, and their bottom line have made her a sought-after consultant for large corporations across the globe. As a business development expert and financial growth strategist, Quiana uses her years of experience in sponsorship strategy management, budget management, human resources, finance, project management, training, and public speaking to help businesses bolster financial and organizational growth.
Quiana is my secret weapon. She helps my company determine our annual sponsorship strategy. Quiana's sponsorship strategy has resulted in brand awareness and an overall 40% reduction on marketing costs in the last 12 months. This year we are hosting our first annual LGBT Family & Friends Weekend. I quickly retained Quiana develop the event's sponsorship strategy for our event. Quiana's strategy secured 5 corporate sponsors within 30 days of just announcing the event. I'm blown away by how fast this all came together. I highly recommend Quiana's strategies, they work.
Keith Belk, EveryQ, LLC
Book Quiana to Speak
As one of the foremost inspirational business experts, Quiana Murray is her amazing story of overcoming seemingly insurmountable, to build the business of her dreams. Her powerful messages, mixed with her personable style and practical action steps leave audiences inspired. Her passion for empowering others to pursue their dreams sets her apart from the rest and has garnered speaking request from corporate organizations and women's groups around the world.
Quiana's expertise:
Increasing your faith in what is possible
Maintaining a successful mindset while overcoming adversity
Mommy the CEO – how to build your dream business AND your dream life
Female entrepreneur empowerment
Ready to wow and inspire your audience?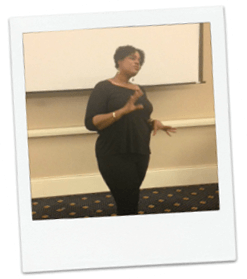 Past Engagements and Awards…